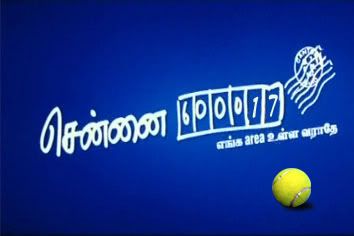 Watching chennai 600 028 brought good old memories of gully cricket we used to play during high school days in chennai. Its been close to ten years since we last played as a team in T Nagar Somasundaram ground (chennai 17). Miss the tennis ball, bat, stumps, panner soda, 50 paisa lemonade and gr8 friends - Kutty, Ashma, Eswar, Sowmi, Arvind Raj, Arun, Rajkumar, Sudharsan, Chanderpaul!!!, Deviprasad, Dinakar, vikram, and lot more...........
The movie inspired by gully cricket played in almost every street of India and played by all, I was no exception to this form of addictive game. I wasn't keen in cricket though i played it for the fun of being with friends. I started playing cricket after coming to chennai during my 8th standard summer holidays. It happened to be the only form of game played by all in the whole country and i had to join the bandwagon. Football was my all time favourite - never found the place and people to play with in India.

My good friend arvind introduced me to this form of the game playing in the Somasundaram ground in T nagar, Chennai - 17. It inspired me to join the summer coaching camp at school!!! That was the first and last of any summer sports camp i ever attended!!

For the next 5 years of my life till i joined college i was addicted to gully cricket.We played like madmen in all of the summer holidays from 6am to 12 in the afternoon. We used to return home drenched with sweat and darkened by the harsh sun. We cursed the rain if it spoilt the ground and played no matter how hot the sun shone on us. We used to arrive early to catch a pitch to play!!! We would never have woken so early for our exams but when it came to pitch capturing we were there as first!!!We had bet matches, fixed matches and most of all it was fun matches... no seriousness to it. End of the day it was good fun and great friends!!!
And i was a lousy fielder and used to drop all the easy catched and the ones i used to cling on to were either no balls or hit on the wrong side of the field!!!