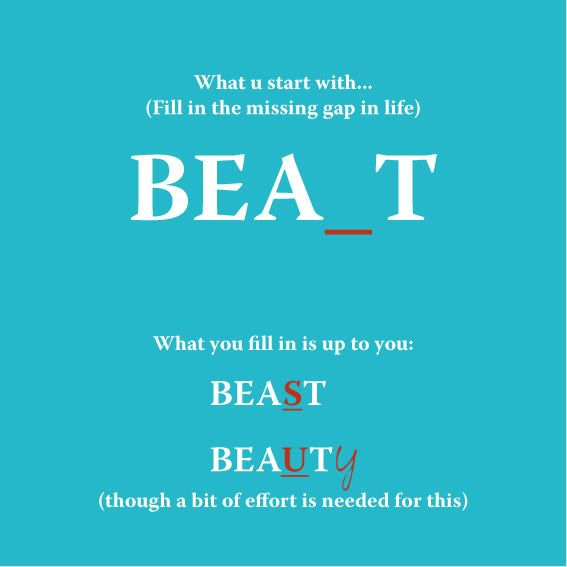 Subscribe in a reader
Human birth is odd. It is a mixture of a bit of beast and the eternal divine beauty within. And it is a thin dividing line which we fail to see at times. The beast defines the logical and physical limitations of our birth. Whereas the beauty gives us a glimpse of what we are meant to be. Some say it is a blessing, some are over joyed while others repent for the trap they have fallen into.
The beast prowls most of the time untamed, indulging in harmless vices and limiting itself to be just another mundane creation of nature.
And it is tough for the beast to see the divine beauty within. But even when the beast does see the truth and purpose behind the creation, it is not easy to put down the beast that has grown fond of it's existence.
Its a constant struggle : putting down the beast to bask in the ther eternal sunshine of beauty.
The scars of the beast are deep and sore. It would take time to heal them if the beast allows it. It is a test that one has to master to dwell in the eternal divine beauty.
Traps are plenty and hunters are widespread in the jungle called life. The beast drowned in its limitations is comfortable calling it home. The knot tightens and time is not by the beast side. Will the beauty survive the beast or will the beast find the beauty within?