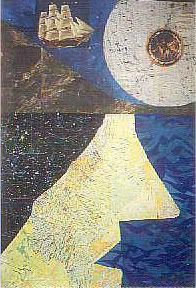 Perched on a higher altitude

beyond mortal grasp
awaits the marksman.

Crouching, camouflaged,
breathing dead still
with hawk-eye precision
and a voyeuristic vision,
he watches without a blink.
i bare myself,
materially naked,
spiritually depleted
and intellectually ignorant,
raise my head
and throw up my hand,
to yell out from the labyrinth
of my heart to free myself
so that He can take me down,
with his rustic silver bullet.
Deliverance doesn't come,
for the moment is not mine,
as i am yet to come into the
range of his viewfinder
for him to pull the trigger
which is not in his hands either.
i utter a different curse unlike
the million others who do when
his silver bullet finds the mark.
He is despised because
he wears an attire of sorrow
and veils himself in misery
and brings about pain.
Nothing is grey about him
nor black and white
for no one knows
when he would take aim
for if he does it would never fail.
They call him Death and many other
names, but for the moment i call him
the Sniper.
(e-collage : paper & glue, 1998)
Subscribe in a reader